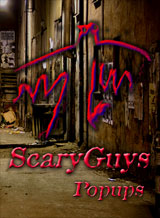 Leap into building your own haunted props that jump and scare your guests! In this DVD, you learn the step-by-step process to design your own popups that move the way you want, safely and reliably.
Building on the information in previous DVDs, ScaryGuys introduces a simple approach to design, build and test your own unique animated popups without technical jargon and complexity. Overcome many of the stumbling blocks that cause issues for first-time popup builders.
Pick up hints, tips and lessons learned "the hard way" from ScaryGuys years of haunt operation.
Get your ScaryGuys DVD now!