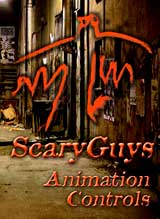 Move past pushbutton switches and uncover how to add reliable motion, lighting and sound to your animations.
We use a building block approach to explain wiring and programming modern animation controllers in this hour-long presentation. Learn how single- and multi-channel controllers can greatly improve the operation of your props, and add scary entertainment to your haunt. Covering units from one to sixteen channels, we use demonstrations, hints, tips, and and detailed views to remove the mystery of using modern computer-based controls in your haunt. Pick up hints, tips and lessons learned "the hard way" from ScaryGuys years of haunt operation.
Get your ScaryGuys DVD now!